How I Dramatically Improved my WordPress Load Time
Offsite WordPress Speed Optimization Guide
Last May I used MaxCDN cdn services and I improved my pagespeed considerably
In fact my loading times through MaxCDN were recorded as follows:
1.56 seconds when loaded by Amsterdam server
1.46 seconds when loaded by NY server
1.56 seconds when loaded by Texas server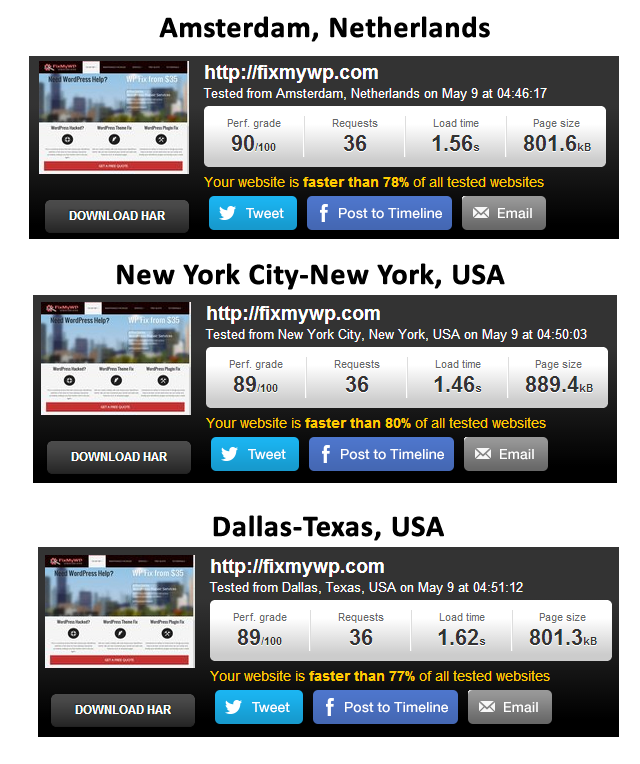 So just yesterday I went one step further and I configured Cloudflare Pro Plan for serving FixMyWP.com under their proxies.
The page speed improvement for my page was astonishing:
When Testing from a server located in Amsterdam:
With MaxCDN loading time was 1.56 seconds
With MaxCDN AND Cloudflare loading time now is 459ms(!)
Loading time improved by 1.1 seconds!!!
When Testing from a server located in New York:
With MaxCDN loading time was 1.46 seconds
With MaxCDN AND Cloudflare loading time now is 590ms
Loading time improved by 0.87 seconds
When Testing from a server located in Dallas-Texas:
With MaxCDN loading time was 1.62 seconds
With MaxCDN AND Cloudflare loading time now is 738ms
Loading time improved by 0.88 seconds